The Nail Snail wins 2018 Australian Good Design
Innovation at its most simple is about bringing an idea to market, but the power comes when you link design to creativity which allows that innovation to answer a need we didn't know we had.
The second series of TEN's highly popular Australia by Design: Innovations once again aims to bring design excellence into the hearts and minds of Australians.
Reminiscent of popular shows such as Beyond 2000 and The New Inventors, over 6 episodes Australia By Design: Innovations features ten amazing innovations in each episode, one or more of these innovations are chosen to go through to the 7th and final episode to be featured as the top 10 best and most exciting innovations of the year. It will be up to the shows expert panel of judges to decide which innovation will be declared Australia's top innovation of the year.
The Nail Snail was featured in Series 2, Episode 3 and has been chosen as a finalist.
Gold Coast Mum Wins Gold at 2018 AusMumpreneur Awards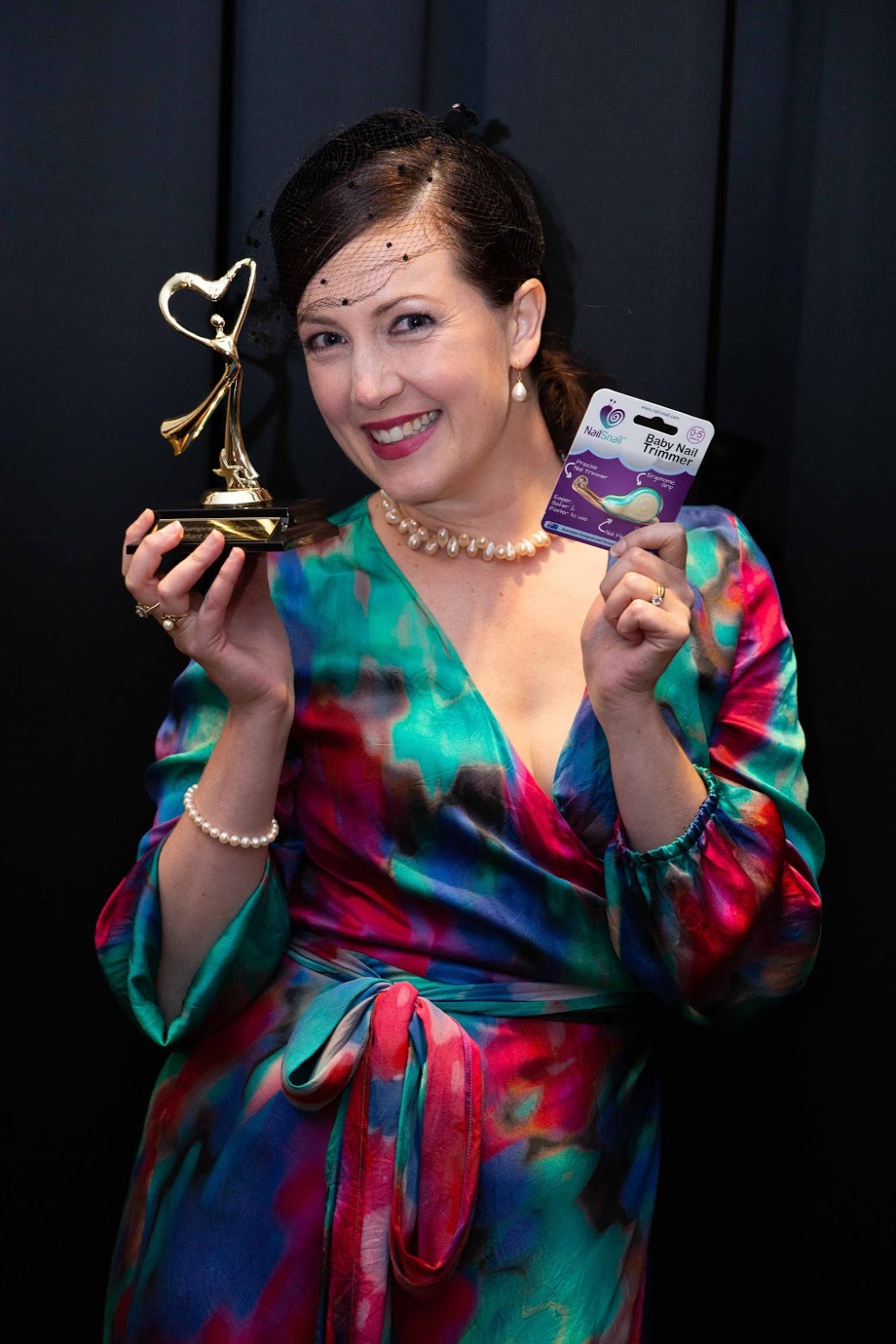 Julia Christie, Gold Coast, who founded Christie & Christie, has been named AusMumpreneur Product Innovation Award winner.
The awards were held at White Night Receptions, Melbourne where talented mums in business from all over the country gathered to support and encourage other Australian Mumpreneurs.
Julia Christie said she was excited to win in her category in the 2018 AusMumpreneur Awards against such a talented group of women.
"Being selected as the first place winner means so much to me because being highlighted as a strong player in such a talented pool of individuals is very validating. That all my hard work and juggling motherhood is being actively recognised. Talk about an exciting moment!"

Being surrounded and connecting with, such accomplished, hardworking women was an incredible experience! These are women who have been challenged at every turn an are excelling with their exciting and innovative products."
AusMumpreneur was created to support Australian entrepreneurs like Julia Chrsitie and her fellow AusMumpreneur Award winners, Peace Mitchell, cofounder of AusMumpreneur said. "These awards are all about recognising the growing number of mums who are achieving outstanding business success while balancing motherhood. I was blown away by the entrepreneurial spirit, resilience and professionalism of the award winners and I know that they will provide great inspiration for other mums considering starting their own business," Peace said.
This is the ninth year the AusMumpreneur Awards have run, with the business mum community growing at lightning speed as mothers look for opportunities to join the ranks of small business owners in search of more flexibility, financial freedom and family time.
AusMumpreneur Network co-founder Katy Garner said, "The awards show the passion of women who want to fulfil their entrepreneurial dreams as well as be great mums. The number of women starting businesses has continued to grow in the last 12 months! Of the 668,670 women operating a small business in Australia currently, a total of 47 per cent are mums with children at home. We are thrilled to be the number one community for mumpreneurs and proud to showcase the best and the brightest each year through these awards."
"We are delighted that Julia Christie has won this award, she has created an outstanding business and is an inspirational role model and ambassador for mums in business everywhere. We wish her and all our amazing Ausmumpreneur Award winners every success in the coming year," co-founder Peace Mitchell said.
There are 30 categories in the 2018 AusMumpreneur Awards, with 26 judged and 4 open to public voting.
Click on the image above for a full list of winners.
For further information, images or an interview please contact: Julia Christie hello@nail-snail.com
For more information on the AusMumpreneur Awards visit: www.ausmumpreneur.com or contact Peace Mitchell on 0431 615 107 or awards@ausmumpreneur.com
The Nail Snail Wins 2018 Australian Good Design Award
Nail Snail - Baby Nail Trimmer Wins 2018 Good Design Award®
The winners of Australia's Good Design Awards, the highest honour for design innovation in Australia, were announced at the Sydney Opera House on 17 May at the 60th Annual Good Design Awards Ceremony.
Nail Snail - Baby Nail Trimmer received a prestigious Good Design Award® Winner in the Product Design category in recognition for outstanding design and innovation.
The annual Good Design Awards is Australia¹s most prestigious Awards for design and innovation with a proud history dating back to 1958. The Awards celebrate the best new products and services on the market, excellence in architectural design, digital and communication design and reward emerging areas of design including business model innovation, social impact and design entrepreneurship.
The 60th Anniversary Good Design Awards attracted a record number of entries. From the 536 innovative designs, only 260 projects were selected to receive the coveted Good Design Award®.
The winners were presented with the new sustainably designed Good Design Award trophy in Sydney. Special guest, Jan Utzon (son of Jorn Utzon, who designed the Sydney Opera House) presented the Good Design Award® of the Year on stage and congratulated all of the 2018 Winners.
Winners of the Good Design Awards will be showcased to the general public during Vivid Sydney, the world's biggest festival of light, music and ideas in Sydney from 25-27 May 2018 at the Overseas Passenger Terminal, Circular Quay.
About Good Design Australia and the Good Design Awards
Good Design Australia is an international design promotion organisation responsible for managing Australia¹s annual Good Design Awards and other signature design events. With a proud history that dates back to 1958, Good Design Australia remains committed to promoting the importance of design to business, industry, government and the general public and the critical role it plays in creating a better, safer and more prosperous world.
The Nail Snail Wins '2018 Beauty Shortlist Mama & Baby Awards - Editor's Choice'

"No other awards champion beauty brands, both established and new upcoming, like The Beauty Shortlist does, and it's no surprise that these awards grow in size and stature year on year. A true celebration of the best, the awards' impartiality and inclusiveness mean that there's an opportunity for every brand to take part irrespective of budget, size or provenance, and to share a platform that brings them wider recognition" - The British Beauty Council (March 2018)
The Nail Snail Wins '2018 BIG Innovation Award'
NSW, Australia — February, 2018— Christie & Christie today announced it has been named a winner in the 2018 BIG Innovation Awards presented by the Business Intelligence Group.
The Nail Snail is a brand new concept. There is nothing even remotely similar, which is why it is such an outstanding and unique product. It makes parents' lives easier and reduces injury to children. A truly global issue.
"This year's winners show the diversity of innovation and its impact on the economy, our cultures and the world as a whole," said Maria Jimenez, chief operating officer of the Business Intelligence Group. "We are thrilled to be honouring Christie & Christie, and The Nail Snail, as they are leading by example and making real progress on improving the daily lives of so many."
Organizations from across the globe submitted their recent innovations for consideration in the 2018 BIG Innovation Awards. Nominations were then judged by a select group of business leaders and executives who volunteer their time and expertise to score submissions and provide feedback.
About Business Intelligence Group
The Business Intelligence Group was founded with the mission of recognizing true talent and superior performance in the business world. Unlike other industry award programs, these programs are judged by business executives having experience and knowledge. The organization's proprietary and unique scoring system selectively measures performance across multiple business domains and then rewards those companies whose achievements stand above those of their peers.
Maria Jimenez - Chief Operating Officer - Business Intelligence Group